Should I Reuse Existing Foundations or Columns?
Subscribe
Many times, customers consider it a cost savings strategy to try to re-use existing canopy components, however, this is can be an uphill challenge.
Problems With Reusing Canopy Components
To even consider using any of the existing structures, the canopy you replace the existing structure with must be the same configuration. The width, length, column spacing, clearance, and yes, even the fascia height/design.

For example, revising a canopy that had a sloped mansard fascia with a vertical fascia changes the design load calculations.

Any components that you want to consider for re-use must be of adequate structural condition.
A site inspection (typically with a fee) will be required to thoroughly inspect & document all of the components that you have on the existing structure.
To re-use foundations, typically the foundation width, length, and, most difficult to obtain, the depth must be known along with the existing bolt size and pattern. Note some Building Permit offices will allow components such as foundations to be "grandfathered" in but this is not always the case. If they do allow such the new canopy must match the existing structure exactly and typically, they will not review/confirm until you have gone to the expense and time for full PE drawings for permit review.

The other concern with re-using foundations is that commonly they must be re-worked to accommodate the new canopy being installed which must meet the current code requirements.

For example, the existing canopy may have had (4) 1" anchor bolts and the new canopy connection requires (4) 1 ¼" rod. In this instance, the PE then has to provide the customer with a revised drawing showing the existing pattern and Hilti anchors that have to be installed in the field by others prior to the canopy being installed.
The anchor bolts once uncovered may not be in working order (some pictures included) due to corrosion or damage.
Questions To Ask If You Should Reuse Components?
If you are considering the desire to re-use specific components of the canopy and/or foundations the key is to plan ahead and to expect a lead-time/cost for site excavation, site inspection, PE review and stamped drawings to provide to the permitting office.
Columns may be able to be re-used however there are still concerns to consider.

Will they meet current code requirements?
Do I want to place a brand-new canopy structure on columns that already show signs of deterioration (installing new columns on an existing structure is complex & expensive!)?
Is the current clearance adequate? For some canopies installing a new standard bottom deck canopy on existing columns actually decreases the current clearance. Increasing the height of an existing canopy is completely reliant on the details of the inspection and many times can not be done with current column sizes.
Do the collector boxes and/or drainage need to be replaced/updated anyway?
Here is an example of the type of disclaimer that will be shown on the details provided by Austin Mohawk and/or the PE: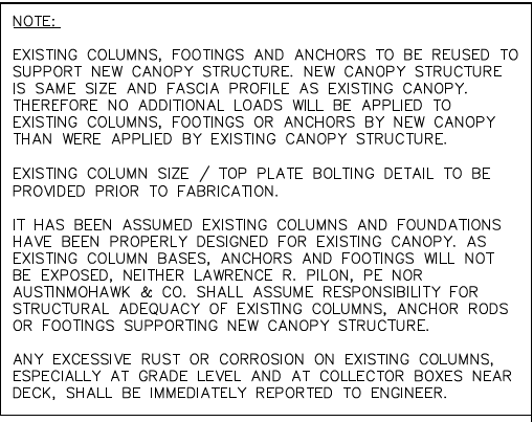 Also, fixing the fascia (reface) and/or replacing deck (redeck) is typically considered repairs, and PE drawings are not typically required.
NOTE: At the time of inspection if Austin Mohawk finds any conditions that are considered unsatisfactory/non-code compliant during our evaluation we will notify such to the customer and modify the requested scope of work as it is our ethical responsibility.
Austin Mohawk and Company have not had a structural failure, we ensure lasting quality & service of such work. We are here to assist with exploring all options for you to find the best quality & economic solution.