How Proper Draining Can Improve the Life of Your Canopy
Subscribe
When it comes to canopy drainage, the myth (yes, you read that correctly) is that it has to be sloped in order to drain. We understand the theory of sloping structures like walkway canopies seems most logical, however, keep in mind that a flat surface does not collect water. Flat, single-deck canopies are the industry standard throughout all areas of the country, and center gutter designs are a thing of the past.
What is a Perimeter Gutter System?
Austin Mohawk uses a perimeter gutter system that is integrated within the perimeter of the canopy to initially collect the water. Our gutter system is the largest used in the industry providing better drainage and easier access for maintenance. After the water from the deck pans are collected, it then flows to tapered gutters that extend back to each column. This section of gutter actually moves the water to the columns of the canopy. At each column, it either has an internal drain system (PVC pipe located within the column) or an external drain, which uses a collector box.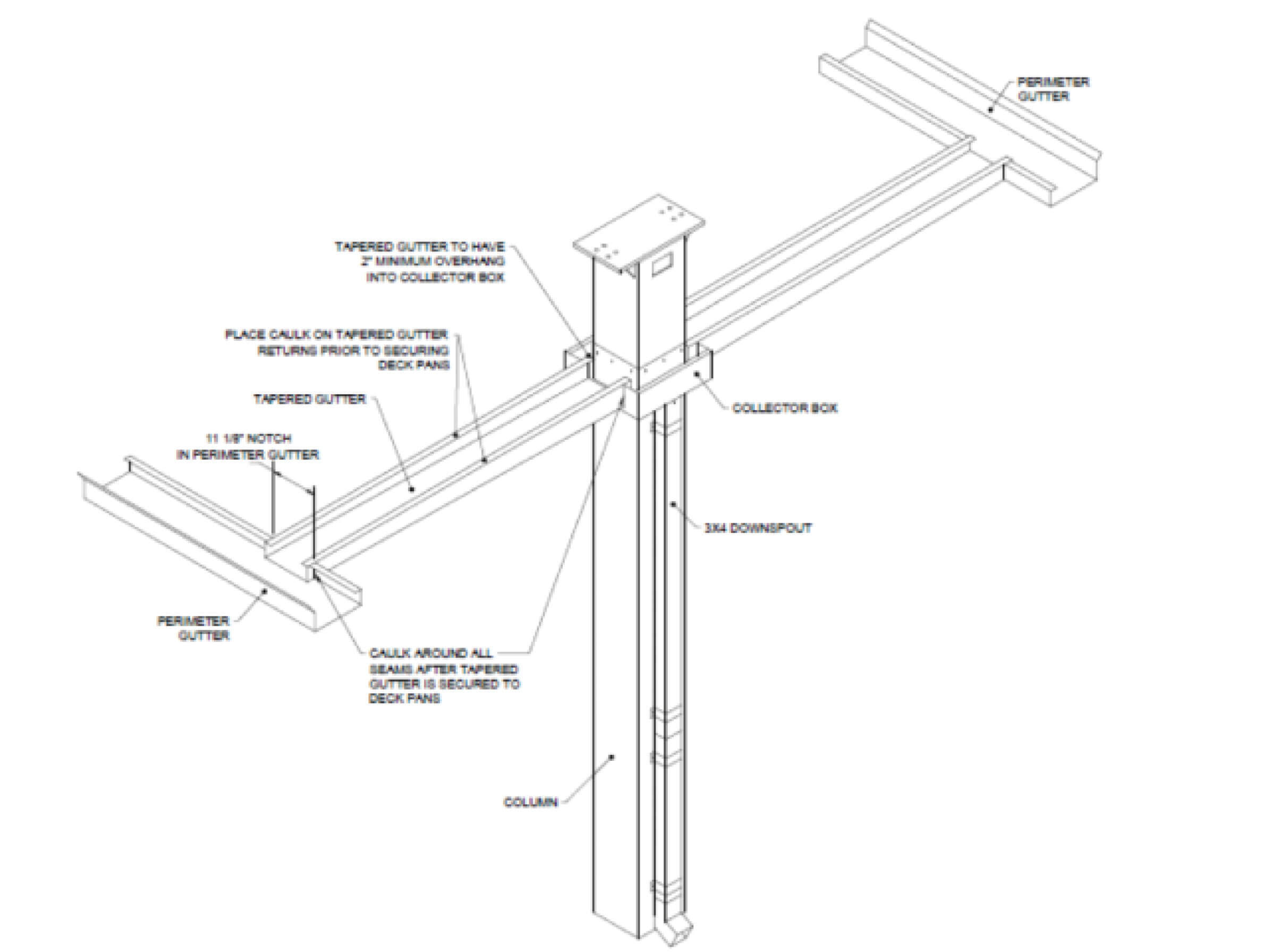 Custom Canopy Designs
Austin Mohawk designs each canopy for the specific site location and accounts for the wind and snow loads required by code. Our professional engineer (PE) dictates what drainage criteria should be used based on the region and code requirements.

Code also requires canopies to have a secondary drainage system, which is met by the use of scuppers in the perimeter gutter. Scuppers are used as the secondary emergency drainage system; the size and number of scuppers are determined by the PE based on the calculations of the canopy layout, square footage, and geographic requirements.
Extend the Life of Your Canopy System
To provide adequate drainage on your canopies it is imperative to have drains at all columns. If there is a site condition that would require a change in this standard, Austin Mohawk should be provided these parameters at the time of a quote and drawing request as custom requirements can affect steel layout, structural deck attachment direction, and custom gutter systems. Insufficient drainage can result in voiding a warranty and can threaten the longevity of the canopy product materials.
Please contact us with any questions! We are here to assist you from the start of planning and layout of your location up to the installation and beyond.