Covered Walkway
Safe & Secure. Prefabricated or Custom.
Austin Mohawk's well-built Covered Walkways provide a safe, sheltered passage for VIPs, customers and employees. Built to last with a minimum of maintenance, our walkways are available with a variety of options to compliment your facility. All models are available prefabricated or custom made to your specifications.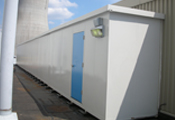 Style:

Classic
Model:

WW-6104-C
Protective Cover
Service Window Canopy
Covered Walkway
View Details...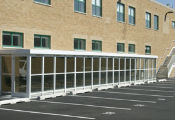 Style:

Classic (2)
Model:

CAN-864-C
Passenger Waiting Shelter
Airport Waiting Shelter
Transit Waiting Shelter
View Details...