Bicycle Shelter
Safe & Secure. Prefabricated or Custom.
Our handsome Bicycle Shelters provide cyclists with a secure place
to store their bikes. Built to last with a minimum of maintenance, our shelters are available with a variety of options to compliment your facility and accommodate your clientele. All models are available prefabricated or custom made to your specifications.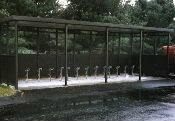 Style:

Classic Half Glass
Model:

S824G-CFG
Bicycle Shelter
Bicycle Enclosure
Bicycle Shed
View Details...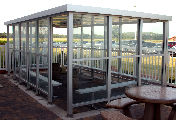 Style:

Classic
Model:

SHE-1224-C
Passenger Waiting Shelter
Airport Waiting Shelter
Transit Waiting Shelter
View Details...