Utility Building
Versatile & Durable. Safe & Secure. Prefab or Custom.
Austin Mohawk Utility Buildings offer secure storage for your valuable goods and equipment. Versatile and sized to your requirements, our Utility Building can also be conveniently paired with a restroom, office or other functional structures. Made in the USA. Affordable and built to last with turnaround time that's faster than the competition.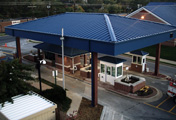 Style:

Ramsey
Model:

BDG-48-R
Guard Booth
Security Building
Access Control Booth
Attendant Booth
Utility
View Details...